Ayurveda is one of the 4 Vedas in our culture containing medicinal knowledge from the earliest days of civilization in the subcontinent. The Ayurveda contains the remedies for almost known ailments of humankind making it an inseparable part of our culture.
Arlak Ayurveda is one of the most trusted Ayurvedic company in India when it comes to Ayurvedic medicines and has long been a trusted business partner to thousands of entrepreneurs and businessmen across the country.
Arlak Ayurveda is now looking for young blood to bolster its distribution and sales networks across the country and provide excellent employment and Ayurvedic business opportunity for the youth simultaneously and help them build a stable future for themselves.
Arlak Ayurveda is one of the topmost Ayurvedic Pharma Franchises in India and has been growing at a tremendous rate ever since its inception. We provide a quality range of Ayurvedic products that are clinically tested to provide results and allow for efficient and healthy recovery of patients.
Contact Arlak Ayurveda for your Ayurveda PCD franchise today.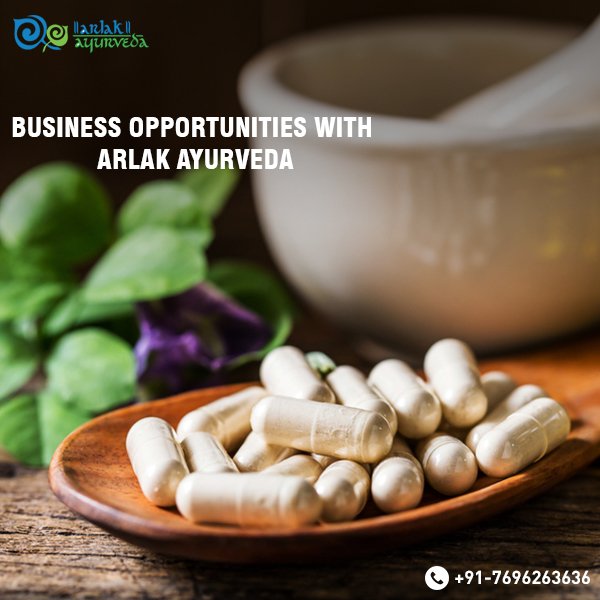 Business Opportunities With Arlak Ayurveda
Arlak Ayurveda is a golden opportunity for you to start your business career and build a bright future for yourself. Apart from third party manufacturing, we are in partnership with the topmost pharma companies in the sector and are committed to our vision of a healthy country.
We generate mind-boggling revenues each year which makes us the Ayurvedic business opportunity you can ever get.
We offer the best business opportunities to our franchise holders who are directly tied to our growth and coverage in the entire country. We are determined to fulfill our customers' needs and necessities and as such have a number of business opportunities to offer to both budding and veteran businessmen-
Merchandise
Contract Manufacturing
Ayurveda PCD Franchise
You get access to the topmost pharma franchise options at highly affordable rates with Arlak Ayurveda. Your business will see consistent growth and revenue as part of our franchise business. You will be the beneficiary of our schemes and special rates making this Ayurvedic PCD franchise a dream come true. Our Ayurvedic medicines are ISO certified and sealed making it easier for them to sold and stored given the high demand for Ayurvedic products in the market.
Third-Party Manufacturing
You can be a part of the Arlak Ayurveda franchise by manufacturing tablets, capsules, syrups and other Ayurvedic medicines as a third party manufacturer for Arlak Ayurveda. As one of the best supply chains in the country, your investment in the Arlak Ayurvedic PCD franchise allows your products to reach the customers across the nation making it a great Ayurvedic business opportunity. Earn higher profits with minimal investment as a third party manufacturing partner.
Merchandise
Ayurvedic Merchandise is another one such an idea to help your business grow. The merchandise deals are available at highly affordable rates and with herbal merchandise having an enormous demand in the country, merchandise can help you cement your presence in the market and as an Ayurvedic Pharma franchise n India.
Contract Manufacturing
Arlak Ayurveda also offers contract manufacturing for syrups, capsules and a lot of Ayurvedic medicinal products. Our certified Ayurvedic products are manufactured following the methodology as provided by us by our contract manufacturers. Coupled with our nationwide distribution network, it becomes increasingly easy for your products to bring in better sales and revenue which are the best results for a contract manufacturing franchise holder.
Why Arlak Ayurveda?
ISO Certified
GMP Certified
7 stage German production process
Affordable Ayurvedic medicines
Understands our Customers
Always enhancing and innovating by using the latest techniques
High demand for our Ayurvedic medicines
The aim to offer our Ayurvedic range of medicines to every corner in India.